Vous aimez les Skittles ? Et les glaces également ? Bonne nouvelle ! Mars Chocolate Drinks and Treats a lancé en février dernier au Royaume-Uni une version glacée de ses célèbres bonbons fruités Skittles.
Vous avez très certainement entendu parler, au cours de ces dernières années, des marques de chocolat qui ont fait le choix d'élargir leur territoire de marque (brand-stretching) en se diversifiant sur le marché des glaces (les derniers en date étant Ferrero et Unilever) mais jusque là, nous n'avions pas assisté à un tel cas de figure pour des marques de confiserie. La donne change donc avec la marque de bonbons Skittles qui est désormais disponible sous forme de glaces. Ce n'est d'ailleurs pas la seule marque de confiserie à s'être diversifiée dans les glaces au Royaume-Uni puisque la marque Sour Patch Kids (Very Bad Kids) a également lancé en avril 2018 sa version glacée.
Les glaces Skittles sont uniquement disponibles dans les rayons surgelés des grandes et moyennes surfaces au Royaume-Uni (chez Tesco notamment) et sont conditionnées dans une boite comprenant 3 glaces de 100ml. La glace fruitée est enrobée d'une couche de sorbet glacé à la framboise et contient à l'intérieur des morceaux de Skittles. On note au passage que l'offre produit est relativement similaire à celle de la marque Solero d'Unilever (sorbets classiques).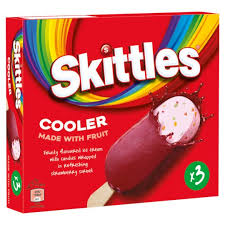 Avec ce lancement, le groupe capitalise sur la notoriété de la marque Skittles au Royaume-Uni et propose ainsi une nouvelle façon de consommer ses célèbres bonbons. Il profite également des bonnes performances du marché de la glace au Royaume-Uni pour appuyer ce lancement (marché en croissance à +8% en 2017 selon Kantar Worldpanel et cinquième pays producteur européen de glaces selon Eurostat).
---
Skittles Cooler, the ice cream version of Skittles
Mars Chocolate Drinks and Treats expanded its ice cream single range by introducing Skittles Cooler (the ice cream version of Skittles) to freezers in the UK. This new product hit shelves in last February in all retailer stores (including Tesco). Sold in a box (containing 3x100ml ice creams), the bars have fruity ice cream with crunchy pieces and are coated with a strawberry sorbet.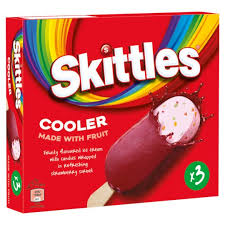 The company Mars Chocolate Drinks and Treats has capitalized on the Skittles brand awareness and on the growing UK ice cream market to launch this unusual candy-based ice cream. FYI, another candy brand (Sour Patch Kids) launched an ice cream range in the UK in April 2018. We have to underline that it is something pretty unusual since so far we only used to see chocolate brands turning their products into ice creams (brand-stretching). Talking about that, Kinder Ice Creams have just been launched in the UK after a launch in Europe last year (among the several products launched, there is Kinder Joy Ice Cream 60ml that isn't available in France yet).
Bad news for all Skittles fans in the world, the products are only available in the UK. Thus, you know what you have to do to taste this frozen treat.