Vous ne me croirez probablement pas si je vous disais que vous pouvez désormais faire une cure de detox en vous nourrissant de gélifiés detox ou alors que vous pouvez dormir mieux en mangeant des glaces. Et pourtant, ce sont les défis (certes peu conventionnels mais bien réels) que se sont lancés deux entreprises américaines.
Les bonbons detox « green juice » by Sugarfina et Pressed Juicery
En 2017, deux entreprises américaines, l'une spécialisée dans les bonbons de luxe (Sugarfina) et l'autre dans les jus healthy (Pressed Juicery) ont eu l'idée d'associer leur savoir-faire respectif en commercialisant des bonbons detox.
L'idée de cette collaboration a été d'allier santé et plaisir en proposant des cures de jus detox sous forme de petits oursons gélifiés de couleur verte (« green juice ») conditionnés dans des bouteilles (comme pour les jus detox de Pressed Juicery). Pour information, les produits contiennent uniquement des ingrédients naturels (du jus de pomme, de citron, de gingembre et d'épinard). Ils sont sans gluten, sans colorants et arômes artificiels et sont riches en vitamines A et C.
Une cure detox de 7 jours avec un shot d'oursons à prendre chaque jour (7-day gummy bear « cleanse » – green juice bears) est même commercialisée. Il y a quelques jours, les deux marques ont dévoilé trois nouvelles saveurs (betterave, citron et vanille) inspirées des meilleures ventes de jus detox de Pressed Juicery. Les marques les proposent en sorte seule (bouteilles uniquement), en pack de 4 shots (4 saveurs) et en cure de 7 jours également.

Innovants par leur conditionnement et par l'offre produit en elle même (jus detox sous forme de gélifiés – du jamais vu!), les produits surfent sur les tendances suivantes: naturalité, bien-être, detox, énergie et plaisir. On peut également souligner le fait que l'association des deux marques est plutôt astucieuse et cohérente avec leurs valeurs respectives (naturalité et gourmandise) et leur savoir-faire (expertise dans la fabrication de jus detox healthy pour Pressed Juicery et expertise dans la fabrication de bonbons de luxe et peu « conventionnels » pour Sugarfina).
Pour les adeptes de jus detox et pour les gourmands, sachez que ces derniers sont uniquement disponibles aux États-Unis sur le site des marques Sugarfina et Pressed Juicery (livraison Etats-Unis et Canada).
La crème glacée Nightfood qui vous aide à vous endormir
Vous avez testé les tisanes et les huiles essentielles pour vous endormir mais sans succès. La glace « NightFood » est alors peut être LA solution à vos insomnies et troubles du sommeil. En effet, la marque américaine promet aux personnes qui la mangent de mieux dormir.
Commercialisée aux Etats-Unis en février dernier, la gamme de crème glacée nommée « Nightfood Ice Cream » a pour particularité d'avoir été conçue avec l'aide de médecins américains spécialistes du sommeil. Les produits ne contiennent aucun ingrédient pouvant perturber le sommeil comme la caféine, les acides gras et les sucres. Ils sont, en revanche, riches en minéraux et acides aminés (ce qui facilite le sommeil). La gamme comprend 8 références aux packagings amusants et aux noms très évocateurs.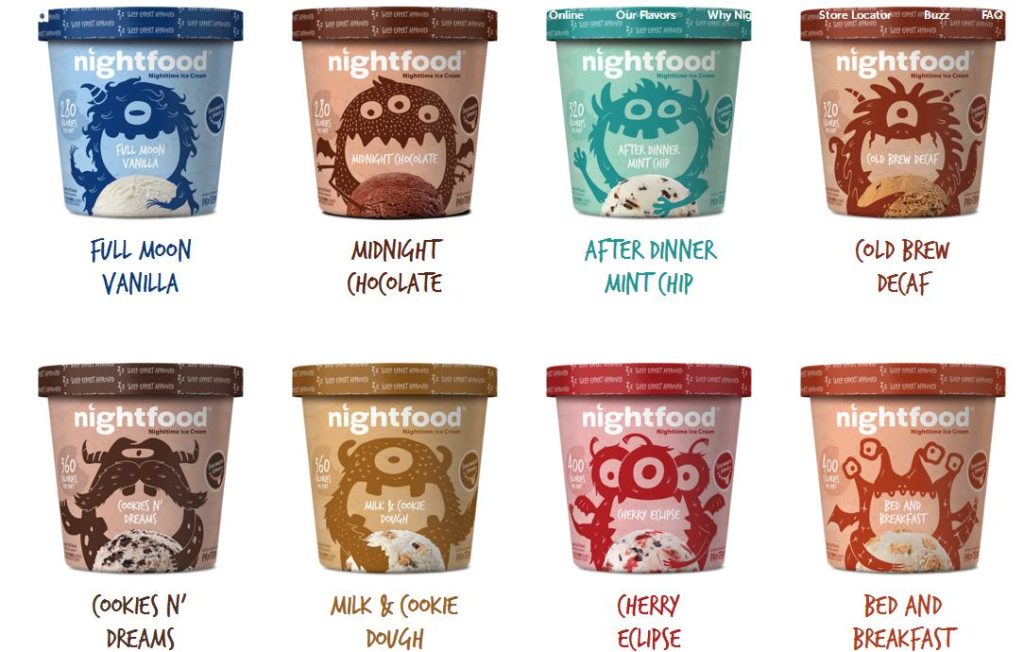 Les produits ont été élus meilleurs produits de l'année 2019 (dans la catégorie « crème glacée ») par Kantar et permettent pour le coup de joindre l'utile à l'agréable.
Nhésitez pas à consulter l'infographie réalisée par la marque Nightfood concernant les habitudes de consommation nocturnes des Américains.
---
Unusual food product launches
The first-ever « green juice » gummy bear line
Inspired by the juice trend, two American companies called Sugarfina and Pressed Juicery (specialized respectively in luxury candies and healthy pressed juices) launched in 2017 healthy green juice gummy bears.
Packaged into bottles (three sizes available), the gummies are made from a blend of natural spinach, apple, lemon and ginger concentrate. They contain no artificial colors or flavors and provide vitamins A and C. At the launch, the products were so popular that they were sold out.
Sugarfina and Pressed Juicery also sell a "7-day gummy bear cleanse" offering thus the possibility to customers' to take a shot of green juice each day but in the form of gummies. We can underline that it is probably the most unconventional cleanse program ever sold!
The two brands have recently unveiled three new flavours (roots, citrus and vanilla almonds) inspired by the Pressed Juicery's best-selling juices. The products are only available on Sugarfina's and Pressed Juicery's websites and some stores in the USA . You can buy them in individual bottles (three sizes) or in packs (juice bears 4-shot carrier and 7-day gummy bear "cleanse").

FYI, it isn't the first time that Sugarfina is stealing headlines (if you are interested, you can read this article about their rosé flavored gummy bears launch and this one about their 24-karat gold rose gummy bears).
Nightfood Nighttime, the new "sleep-friendly" ice cream
Launched in February in the USA, the company Nightfood launched a sleep-friendly ice cream range. So if you love ice cream and that you have trouble sleeping, Nightfood ice cream is probably the best nighttime snack you can opt for.
Created with the help of sleep and nutrition experts, the ice cream doesn't contain sleep disruptive ingredients (such as caffeine and sugars) but only ingredients that facilitate sleep. The range includes eight flavors (each flavor has a specific funny name linked to sleep) and is available for purchase online in the USA. The products are so innovative that they won 2019 product of the year by Kantar.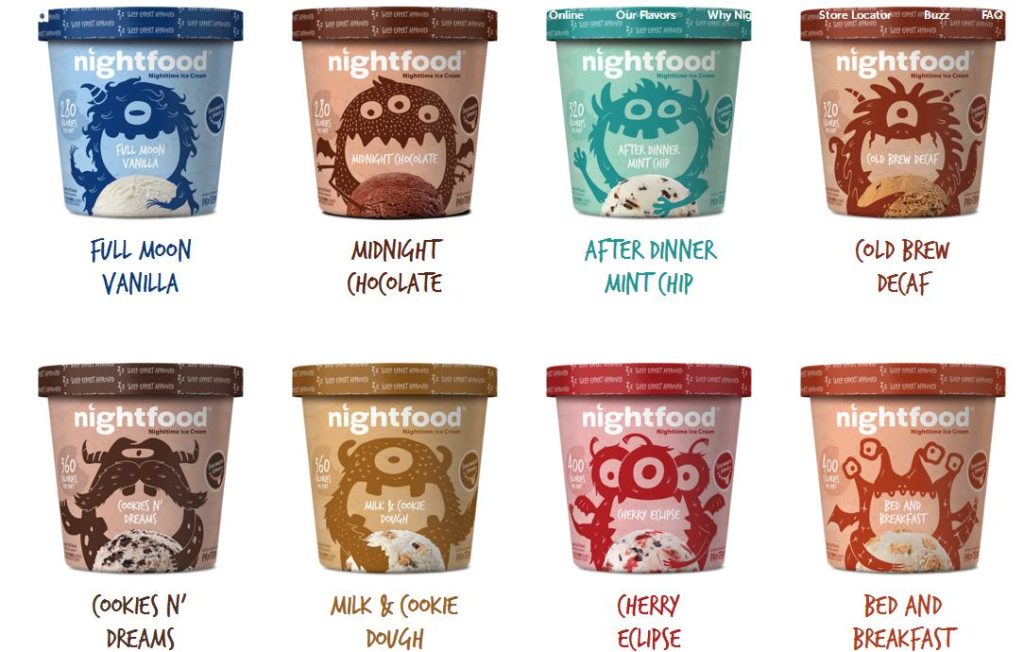 Don't hesitate to read this interesting infography about America's nightime snack habits to better understand the launch of the company Nightfood.