Au Japon, la chaîne de restauration
Gaku
spécialisée dans les plats chauds et les desserts très chics, a lancé il y a quelques mois de jolis desserts conditionnés dans des canettes transparentes, laissant apparaître des couches successives de crème, de génoise et de fruits. Oui, vous avez bien lu! Véritable innovation de rupture par son format, ces desserts contenus dans des canettes allient praticité produit (transport et consommation facilitée) et originalité.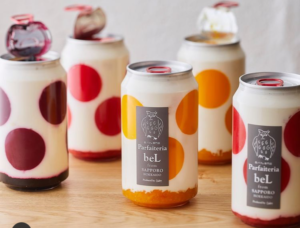 Disponibles au Parfaiteria Bel, une pâtisserie de renom située à Shibuya (à Tokyo) et en quatre parfums (fraise, myrtille, agrumes et tiramisu), les produits ont fait le buzz sur les réseaux (notamment Twitter) et ont été victimes de leur succès dès le lancement en juin dernier. Suite à cela, la chaîne a même décidé d'installer des distributeurs automatiques de canettes devant ses différents points de vente. Plutôt astucieux de multiplier les canaux de distribution et surtout de proposer un produit que l'on déguste habituellement dans une assiette et non pas dans une canette. Qu'en pensez-vous?
——————————————————————————————————————
Cakes in cans: the latest on-the-go innovation of Gaku in Japan
Ever wanted to eat your favourite cake out of a plate and bring it wherever you want?
It's now possible with the Japanese speciality store
Gaku
which serves desserts in cans.
Launched to satisfy late-night cravings, the launch of these beautiful cakes in drink cans went viral on social media last summer. The demand for the products in stores was so high that Gaku decided to also sell the cake cans in vending machines.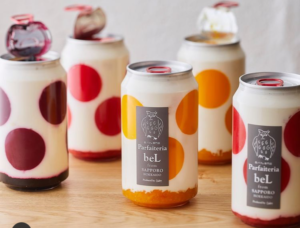 Filled with beautiful layers of cakes, cream and fruits; these cakes in transparent cans are convenient to eat on-the-go, beautiful and so Instagrammable. So unusual indeed but so ingenious, isn't it? Four flavours are available: strawberry, blueberry, citrus and tiramisu.
This innovation clearly brings cake-eating to a whole other level! A mouth watering innovation that is unfortunately only available in Japan.What do you think? Would you like to try the products?
Useful and interesting links: