Véritable révolution sur le marché des laits végétaux ! La startup suédoise DUG (créée par Veg of Lund) vient de lancer une alternative au lait de vache surprenante. En effet, cette dernière vient de lancer le tout premier lait végétal à base de pomme de terre . Oui, vous avez bien lu!
Cette innovation de rupture, inexistante sur le marche des laits végétaux, est résolument écologique. En effet, les pommes de terre sont bien meilleures pour l'environnement que l'avoine et elles utilisent également beaucoup moins d'eau que les amandes.
Présente en Suède et au Royaume-Uni, la marque propose trois différents produits : original, non sucré et barista.    À base de pomme de terre, d'huile de colza, de protéines de pois et de fibres de chicorée, les produits sont sans sucres ajoutés, sans gluten, sans lactose et sans soja. Le produit est à multiples usages: il peut être utilisé en cuisine, en pâtisserie et même pour vos lattes.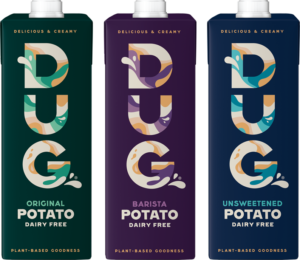 Impressionnant et innovant, n'est ce pas? Qu'en pensez-vous? D'autres marques se lanceront-t-elles sur ce nouveau segment ? D'autres intervenants se lanceront-t-ils sur ce type d'alternatives végétales innovantes ? A suivre…
---
DUG launches plant-based milk made from potatoes
Launched in August, DUG is an innovative, vegan-friendly and plant-based brand that disrupts the plant-based milk market since it's the world's first plant-based milk made from potatoes. Compared to competitor plant-based milks on the market, it is also one of the most sustainable (with its low climate footprint and its low use of water – 56 times less water than almond milk) .
The beverage is also free from the most common allergens (such as lactose, milk, soy, gluten and nuts). It can be used like any other milk so you can cook, bake and even prepare lattes with it.
Three flavours are available: three flavours: Original, Barista, Unsweetened.
The products are sold in Sweden and in the UK (through Amazon).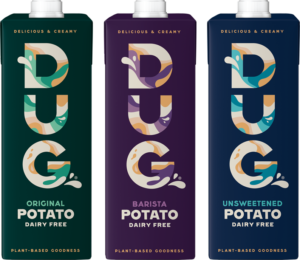 Potato milk, the new dairy alternative? What do you think?
Useful and interesting links: