Bonne Maman, la célèbre marque au couvercle vichy, est arrivé début septembre sur un marché où on ne l'attendait pas : celui des pâtes à tartiner. Après une chasse au trésor dévoilant de nombreux indices sur son compte Instagram, la marque a finalement fini par dévoiler sa nouveauté sur son compte le 30 août, à savoir une pâte à tartiner premium aux noisettes et au cacao. Le produit est d'ores et déjà disponible en GMS et ceci en trois formats (250 g, 360 g et 580 g).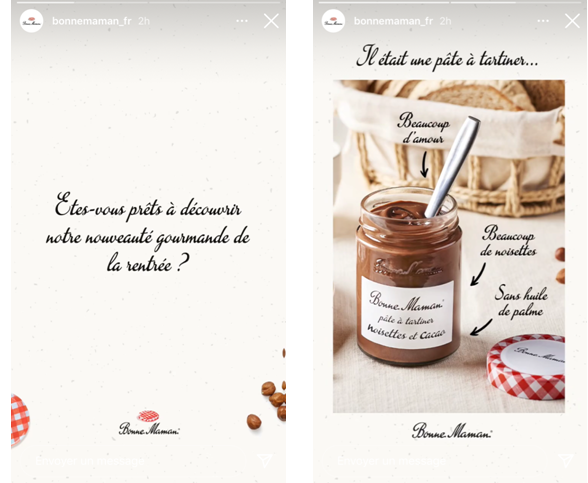 La marque arrive ainsi sur un marché dynamique et déjà bien bataillé par de nombreux acteurs (et notamment les marques nationales). Pour rappel, Nestle Dessert tout comme Michel & Augustin (au rayon frais en revanche) ont investi le marché en début d'année.
Avec une pléthore d'offres plus ou moins saines (sans huile de palme, biologiques, sans additifs…), la célèbre marque au couvercle vichy se positionne sur les axes de gourmandise (20% de noisettes versus 25% de noisettes pour Lindt et 18,5% pour Nocciolata) et de naturalité (sans additifs et sans huile de palme). Côté packaging, la marque mise sur un pot recyclable épuré avec son iconique couvercle en vichy rouge et blanc ainsi que son étiquette blanche manuscrite. Pour soutenir ce lancement, la marque prévoit un dispositif 360° d'ici la fin de l'année. A suivre…
---
Bonne Maman unveils its first hazelnut spread in France
A small revolution for Bonne Maman, the french famous jam brand identifiable with its red and white vichy pattern cover and its writing calligraphy ! The brand, has just released a chocolate and hazelnut spread in France. The product, available in three formats (250 g, 360 g and 580 g), is free from palm oil, Made in France and contains 20% hazelnuts (which is less than Lindt -25% and more than Nocciolata- 18,5%).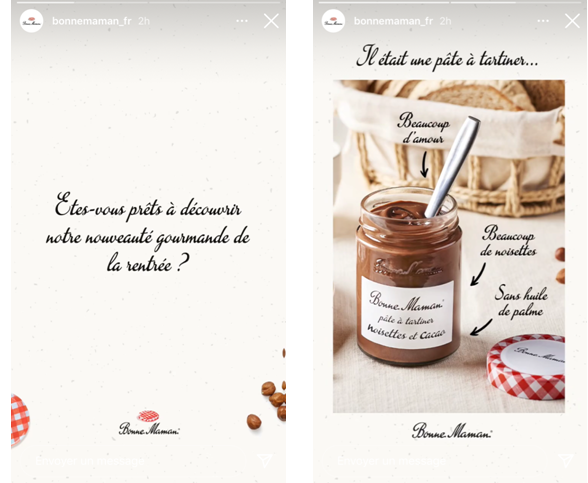 More and more brands are trying to find a place in this growing segment in France with products putting more and more the emphasize on the benefits of the products (less sugar, free from palm oil, organic…).This year, Nestle (with Nestle Dessert) and Michel & Augustin have also launched their own hazelnut spreads.
New products are launched each year in this competitive market dominated by Ferrero (with Nutella). The brands present in this market are so numerous in France (Nocciolata from Rigoni di Asiago, Lindt, Patamilka, Lucien Georgelin, Poulain, Nestle, Michel & Augustin, Funky Veggie…).
Useful and interesting links:
https://www.lsa-conso.fr/les-tartinables-s-allegent-leurs-ventes-s-envolent,376468