Zoom sur Maison de la barbe à papa et Bubble It, deux marques « Made In France » qui révolutionnent leurs marchés respectifs.
Pockette, la 1ère barbe à papa au format nomade
Véritable innovation de rupture par son format (sachet nomade de 20g), cette barbe à papa nomade (de la Maison de la barbe à papa) et au goût de fraise peut être emportée partout avec soi. Du jamais vu pour une barbe à papa (dont la consommation est habituellement faite dans les fêtes foraines)! Parfait donc pour une consommation on-the-go!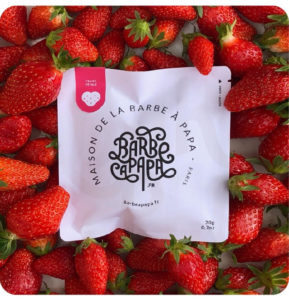 Les produits sont fabriqués en France, conditionnés dans des emballages recyclables et contiennent uniquement des ingrédients naturels (sans arôme artificiel, sans colorant et sans conservateur). Pour tester les produits, n'hésitez pas à les commander sur l' e-shop de la marque.
Bubble It!, la nouvelle eau gazeuse nomade
De nombreuses marques se sont lancées récemment sur le marché des boissons en poudre à diluer dans de l'eau (comme la boisson en poudre Tang dans les années 80). Parmi ces dernières, on peut citer les marques Bubble It! , Waterdrop, Zéro ou encore Têtes Brûlées.
L'une des plus innovantes est la start-up parisienne Bubble It! qui vient de lancer une solution en poudre qui une fois diluée dans de l'eau vous permet d'obtenir une boisson gazeuse. Le concept est simple: mélangez de l'eau avec le contenu des sachets en kraft de la marque et vous obtiendrez une boisson fortement pétillante. Trois recettes sont disponibles: nature, menthe et citron.
Les produits sont sans sucres, sans édulcorants, sans conservateurs, sans colorants et Made In France.


Véritable innovation de rupture (par la proposition produit en elle-même), cette boisson en poudre conditionnée dans un sachet (praticité produit) peut être emportée et consommée partout et à tout moment. Elle apparaît ainsi comme une alternative aux boissons gazeuses en bouteille et aux machines de gazéification à domicile (comme Sodastream). Avec Bubble It, dites ainsi adieu aux bouteilles en plastique, aux machines de gazéification et aux addictifs peu naturels.
Alliant donc originalité, écologie et praticité, Bubble It! est la boisson à tester de toute urgence. Pour les amateurs de boissons pétillantes (mais pas uniquement), sachez que les produits sont disponibles à la vente sur le site de la marque.
---
Food & Drink: Innovative on-the-go products in France
Pockette by « la Maison de la barbe à papa »: The first-ever on-the-go candy floss
With its 20 gram bag, the packaging of this strawberry-flavoured candy floss launched by the French company « Maison de la barbe à papa » is designed specifically for on-the-go consumption. Convenient, you can bring it everywhere with you! Innovative, isn't it?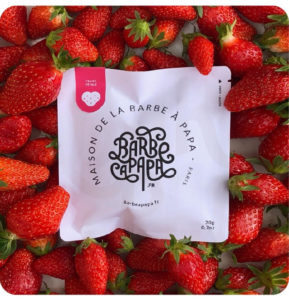 With recyclable wrappers, the products are made in France and free from artificial flavours, colours and preservatives. If interested, don't hesitate to take a look at the website of the company.
Bubble It!, the French on-the-go sparkling water
Bubble It! is an innovative sparkling water powder brand from France. The product is unconventional and convenient with its on-the-go format. Indeed, you can bring the powder sparking water bag wherever you want and without using a sparkling water machine like Sodastream. You only have to put the effervescent powder in a glass or a bottle of water and your sparkling water will be ready. Smart, isn't it?

The range comes in three flavours: nature, lemon and mint. The products are free from sugar, colors and preservatives.
We can underline that the brand appears as a real alternative to sparkling water in plastic bottles and sparkling water machines. Moreover, with the use of recyclable kraft bags for its products, the brand clearly tackles plastic packaging waste. An interesting initiative that will help create a waste-free future!
Interesting and useful links: