Si la cuisine du Moyen-Orient est de plus en plus populaire en France et notamment en hors domicile, cette dernière est peu présente en GMS (hors période de Ramadan où les produits orientaux sont plus présents). Fort de ce constat, Nestlé a lancé MEZEAST, une nouvelle marque qui propose de (re)découvrir les spécialités emblématiques du Moyen-Orient en toute convivialité chez soi.
Implantée au rayon « produits du monde épicerie », la marque a rejoint, depuis le mois dernier, de nombreuses marques déjà présentes dans ce rayon (comme Tanoshi, Suzi Wan et Thaï Kitchen sur le segment de la cuisine asiatique mais aussi Old El Paso sur le segment de la cuisine mexicaine).
La marque propose une gamme de 10 références qui met à l'honneur la cuisine du Moyen-Orient avec notamment :
–        Trois références de kits complets pour réaliser: des wraps poulet sharwarma, des wraps kofta et des wraps falafel (nutriscore A)
–          Une référence de wrap de blé (nutriscore B)
–          Deux références de sauces : Tahini au sésame grillé et Toum à l'ail (nutriscore D)
–     Quatre références d'assaisonnements : deux préparations (pour houmous et pour falafels avec nutriscore A) et deux assaisonnements (une pour koftas avec nutriscore B et une pour shawarma avec nutriscore A).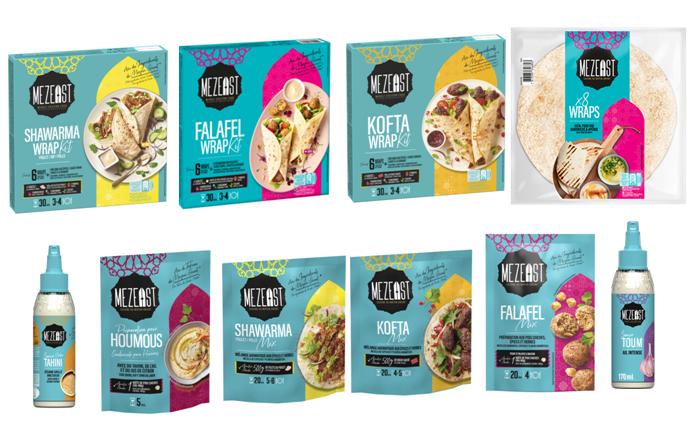 Une jolie gamme qui rend accessible à tous la cuisine orientale avec des produits simples et rapides à préparer chez soi et qui allie plaisir, partage et praticité.
Nestlé innove donc dans le rayon produits du monde (épicerie) en proposant sur le segment de la cuisine orientale une nouvelle offre en linéaires. Plutôt astucieux!
La marque a également été lancée aux Pays-Bas , en Belgique et en Espagne. Des vidéos de recettes sont aussi proposées via le site Croquons la vie pour la France et Nestle Cocina pour l'Espagne.
Envie d'en savoir plus? N'hésitez pas à visualiser la vidéo ci-dessous.
---
MEZEAST, Nestle's new middle eastern brand
If there are many products inspired by the Asian and Mexican cuisine on French shelves, it's not the case for products inspired by the Middle Eastern cuisine. Nestlé has decided thus to launch a new brand called MEZEAST (MEZ for "mezze" and EAST for east, oriental) in France. The aim of MEZEAST is to democratize middle eastern cuisine providing convenient meal solutions.
The range includes 10 references consisting of:
– Meals packages : tortilla wrap kits with sauces and seasonings to prepare chicken sharwarma, kofta and falafel. Brands like Kook Aloney (from Cyrus) or Cornitos (in India) offer similar products.
– Sauces: tahini and toum
– Preparations to prepare houmous and falafels.
– Seasonings mixes for shawarma and kofta
With this new range, Nestlé clearly wants to make Middle Eastern cuisine easier to purchase, share and enjoy at home. The products of this new brand are also sold in the Netherlands, Belgium and Spain.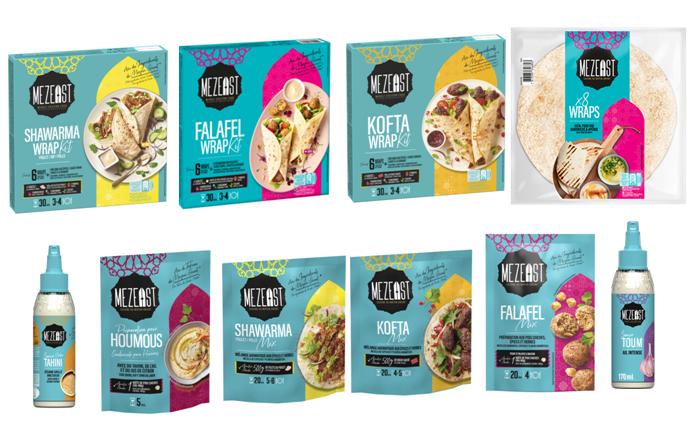 Crédits photos / Interesting and useful links:
https://www.nestle.fr/media/pressreleases/allpressreleases/nestl%C3%A9%C2%AE-lance-mezeast-les-d%C3%A9lices-du-moyen-orient-%C3%A0-la-port%C3%A9e-de-tous
https://www.lineaires.com/les-produits/nestle-a-la-conquete-des-produits-du-monde
https://www.behance.net/gallery/105058533/MEZEAST