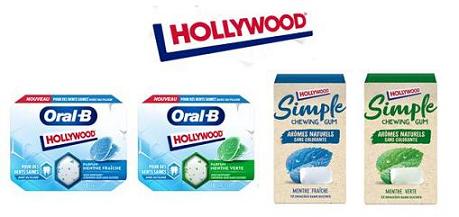 Grande première pour la marque Hollywood, leader sur le marché de la gum en GMS! La marque vient de lancer en partenariat avec Oral B, référence dans la santé bucco-dentaire, une gamme de chewing-gum au fluor avec comme promesse la protection des dents. La gamme comprend deux références (menthe fraîche et menthe verte). Avec ce lancement, la marque investit le segment de la santé bucco-dentaire (sur lequel elle n'était pas présente) avec en sus, une caution attractive pour les consommateurs (Oral B). La marque contre ainsi MWC avec sa marque Freedent, positionnée également sur l'axe bucco-dentaire (et première marque recommandée par l'Union Française pour la santé Bucco-Dentaire).
Et ce n'est pas du tout ! Mondelez investit également le segment de la gum « saine » avec Hollywood Simple chewing gum. Uniquement à base d'arômes naturels et peu d'ingrédients, les chewing-gums sont sans colorants, sans sucres et sans aspartame (remplacé par de la stevia). Avec cette gamme, la marque fait le choix de ne garder que les ingrédients essentiels dans ses produits et répond ainsi aux besoins des consommateurs à la recherche de plus de simplicité.
On est certes loin de l'innovation de rupture de l'entreprise italienne Functional Gums (avec son chewing-gum Naturgum biodégradable sans sucre, sans gluten et vegan) toutefois on peut souligner le fait qu'avec ces deux gammes résolument plus saines et plus naturelles, Mondelez répond véritablement aux attentes grandissantes de « bien-être » des consommateurs.
Mondelez International innovates with healthier chewing-gum ranges
In partnership with Oral B, the gum brand Hollywood (leading chewing-gum brand in France) launched few months ago a new range of sugar-free chewing gum for teeth care in France. The products have also been launched in Europe and other countries in the world but under the Trident brand. Made with fluor, the dental care chewing-gums are available in two flavours: spearmint and peppermint. With this launch, Mondelez plainly intensifies competition with Mars Wrigley and its brand Freedent (known as Orbit in the UK and in the USA) also specialized in dental health care.
Mondelez International also launched in France Hollywood Simple, a sugar-free chewing-gum which contains only natural ingredients (aspartame replaced by stevia). The idea is to provide to consumers' a chewing-gum made with less but better ingredients. We are clearly far from the breakthrough innovation of the italian company Functional Gums with its Natur Gum chewing-gum (100% natural, sugar-free and biodegradable); however with these two new ranges Mondelez International clearly focuses on consumers' who want more natural products.