Cultiver ses propres pommes de terre en pot, c'est désormais possible avec
Calbee
, marque leader sur le marché du snacking salé (chips) au Japon.
La marque vient de dévoiler dans certains magasins de bricolage et de jardinage (notamment
Protoleaf
) de la région de Kyushu une toute nouvelle offre : des kits de culture de pomme de terre.
Elle propose ainsi à la vente deux produits complémentaires:
– un sac contenant deux plants de pomme de terre germés (et donc prêts à planter) nommé « Poroshi » (qui correspond à la variété de pomme de terre originale de Calbee) et,
-un sac nommé « Potato Bag » qui est le terreau servant à la plantation des plants germés. Avec un packaging similaire à celui des chips Calbee, le sachet de 12 litres (et 100% d'origine végétale) sert aussi de pot (avec ses trous de drainage au fonds du sachet).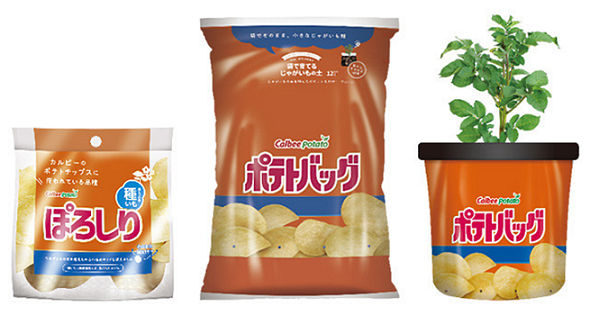 Deux produits qui permettront aux Japonais de planter leurs propres pommes de terre en pots à la maison (et d'initier aussi les enfants à la culture de pomme de terre). Plutôt astucieux, n'est ce pas?
Un brand-stretching qu'on ne voyait pas venir et qui semblait pourtant " évident"…
————————————————————————————————————————————–
Calbee expands beyond the chips aisle in Japan
The famous Japanese potato chips brand
Calbee
has just unveiled a new unexpected offering. Indeed, the brand has released its own potato-growing kits.
Sold at DIY stores and garden stores (such as
Powerleaf
), the brand sells a bag containing two seed potatoes and named « Poroshiri » (which is Calbee's in-house potato variety). In addition to this product, the brand also offers a 100% plant-based soil and fertilizer bag named « potato bag ». With this « potato bag » (similar to Calbee's potato chips), Japanese can plant their seed potatoes using the bag as a pot since it has drainage holes. Smart, isn't it?
If you want to grow your own potatoes; you, thus, will have to buy the two products.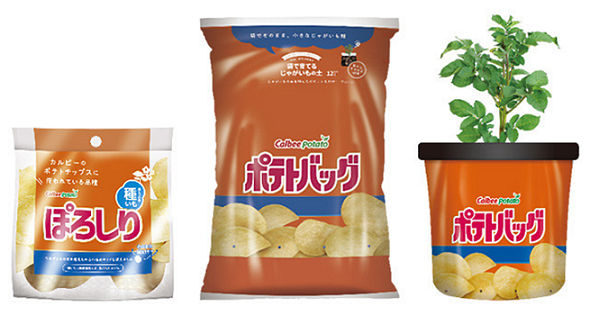 What do you think of this brand-stretching?
Useful and interesting links: