Panzani Food Service a dévoilé le mois dernier sa « Panza Paille », la première paille en pâte 100% biodégrabable et compostable destinée au marché de la restauration hors-foyer. Avec ce lancement, la marque apporte une réponse originale à la future interdiction des pailles en plastique à usage unique prévue dans l'Union Européenne à partir du 1er Janvier 2021.
Fabriquée avec les mêmes ingrédients que les pâtes classiques de la marque (à savoir du blé et de l'eau), la « Panza Paille » est entièrement biodégradable et compostable. Selon le leader français du marché des pâtes, la paille en pâte tient 1 heure dans les boissons fraîches et ambiantes. Longues de 25 centimètres, les pailles sont conditionnées dans des sachets plastiques (également biodégradables et compostables) de 60 pailles. Lancées à destination des professionnels (et disponibles chez les grossistes et les cash & carry), vous les trouverez donc prochainement dans vos bars et restaurants préférés.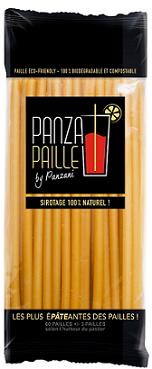 Si cette alternative aux pailles en plastique est innovante, eco-friendly et surtout inattendue de la part de Panzani en France, d'autres marques se sont déjà lancées sur le créneau à l'international. En effet, la chaine de restauration italienne à Londres Coco Di Mama a déjà banni les pailles en plastique au profit de pailles en pâtes depuis juin 2018. Idem pour la chaine de restaurants et bars Sausalitos en Allemagne et ceci depuis juillet 2018. Les marques Stroodles et Ecostraws, respectivement au Royaume-Uni et en Irlande, commercialisent le même type de pailles (en pâte alimentaire).
Reflet d'une véritable préoccupation environnementale, cette loi va très certainement faire émerger d'autres alternatives écologiques innovantes.
---
Panzani launches eco-friendly pasta straw
Panzani Food Service unveiled last month the launch of its « Panza Paille », the first ever eco-friendly and compostable pastra straw. With this launch, the company brings a smart eco-friendly alternative to single-use plastic straws ban planned in the European Union by 2021 in restaurants.
Made up of just two ingredients (wheat and water), the "Panza Paille" is entirely biodegradable and compostable. The pasta straws can be used for all cold beverages and can last approximately one hour. The pasta straws come in tall size (25 cm) and are sold in a plastic bag (which is also compostable) of 60 straws to wholesalers and cash and carry retailers. The products will thus be available soon in French restaurants and bars.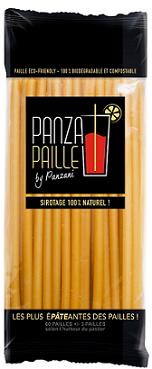 If the initiative is innovative in France, it is not the case abroad since many restaurants/companies have already launched pasta straws. Indeed, last year, Coco Di Mama, an Italian food-to-go brand in London, banned plastic straws from its restaurants and launched the "pastraw". Brace &Browns Restaurant & Bar in Bristol also use pasta straws. It is also the case in Germany with the local restaurant and bar chain Sausalitos. Other companies (Stroodles in the UK, Ecostraws in Ireland and Straw-ghetti in Canada) also launched pasta straws. All these initiatives are eco-friendly solutions to harmful plastic straws